2021
**NEW** Outdoor Nets
Our new outdoor nets at Cutteslowe Park are now open and available for use.
Booking procedure and rules
Nets are booked via a Google Calendar. All active players have been sent a link to the Calendar to make bookings. If this hasn't worked for you, please contact .
Sessions pre-booked for WCC are open to all members, except the Friday evening sessions, which are reserved for youth membership. If you would like to book a session and invite others to join you, please book and advertise (perhaps on the club's WhatsApp group).
If you book a session then you are responsible for opening and closing the nets and making sure the nets are used according to the net rules. The last player out must also make sure the nets are locked and left tidy. Please report any issues to . On arrival, you are required to sign in using the QR code. Codes to access the nets will be emailed to members periodically.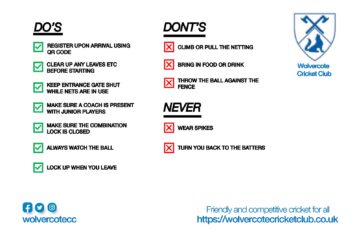 Indoor nets
Due to the current pandemic we have not yet been able to make arrangements for indoor nets in 2021. We will contact members with details if indoor or outdoor nets are able to be arranged safely.
Nets Guidelines
Warm up before your train!
Check nets for damage before starting to bat each time a new batsman enters.
Watch the nets at all times do not turn your back including walking back from bowling!
Use a bat to retrieve balls in the side netting, or hold side netting back to protect your head when bending down.
Batsmen should make sure no spent balls are on the mat before another ball is bowled
Do not bowl until the previous bowler is out of the net and the batsman is ready
Wear protective equipment when batting in nets.
Be aware of others when batting, no unannounced slogging practice!
Please remember:
Always do your best to offer quality training to others.
Help at the beginning and end of sessions with setting up and putting away equipment, many hands make light work…