Captain's Welcome
Phil Walsh, Third XI Captain
2017 proved the right time to start a third team, providing competitive Saturday cricket to those who may not have had quite as many games as they would hoped for previously, as well as for any new members looking to get involved. Having been part of the Second XI since it entered the OCA some years back, starting again was not a completely unknown quantity. Right from the outset, it was great fun and, perhaps outstripping our own expectations, fairly successful.
We aim to play in an entertaining, friendly environment but this team still likes to celebrate a win rather than commiserate a defeat! There is a competitive element but winning certainly isn't sought at the expense of enjoyment. We are an open, friendly bunch which encompasses those striving to improve as well as those seeking to enjoy!
We aim to play the game in the right spirit and with the right attitude against opponents, hopefully, with a similar outlook. If you love playing cricket and look to take pleasure on sunny Saturday afternoons playing cricket with a decent group of guys, then this is the place to be!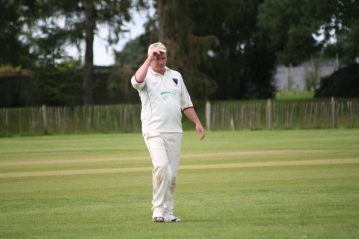 2021 Fixtures
Wolvercote's Third XI currently plays its cricket in Division 7B of the Cherwell Cricket League.