Wolvercote 1st XI is a well balanced side in all regards. We have an even distribution of the fit and the unfit; fat and thin; fast and slow; home-bred and overseas imports; run scorers and wicket takers; great catchers and well, the not so great! But, most of all, we provide the right balance between the desire to win and ensuring that we play the game in the right spirit.
We have a team that holds sportsmanship, camaraderie and teamwork in high regard and this translates into a friendly environment for us to spend our Saturday afternoons soaking up some sun, winning some cricket matches and indulging in some friendly banter between ourselves and any like-minded opposition.
The culture at Wolvercote has bred success in our league games where we have now been promoted for six of the last eight seasons as well as winning the Telegraph Cup in 2015. We have our goals firmly set on achieving success now that we're in the Cherwell League!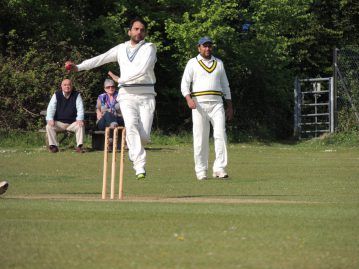 Wolvercote's First XI currently plays its cricket in Division 5C of the Cherwell Cricket League.

Week
Date
Time
Fixture
Format
Result/Scorecard
1
7 May
13:00
Steventon 1 vs Wolvercote 1
Win-Lose
Wolvercote won by 7 wickets

Scorecard
2
14 May
13:00
Wolvercote 1 vs Wantage & Grove 1
Win-Lose
Wolvercote won by 5 wickets

Scorecard
3
21 May
13:00
Horspath 4 vs Wolvercote 1
Win-Lose
Wolvercote won by 5 wickets

Scorecard
4
28 May
13:00
Dorchester 1 vs Wolvercote 1
Win-Lose
Wolvercote won by 112 runs

Scorecard
5
4 June
13:00
Wolvercote 1 vs Challow and Childrey 2
Win-Lose
Challow and Childrey won by 38 runs

Scorecard
6
11 June
13:00
East Oxford 2 vs Wolvercote 1
Win-Lose-Draw
East Oxford won by 6 wickets

Scorecard
7
18 June
13:00
Wolvercote 1 vs Radley 1
Win-Lose-Draw
Wolvercote won by 5 wickets

Scorecard
8
25 June
13:00
Clifton Hampden 1 vs Wolvercote 1
Win-Lose-Draw
Match drawn

Scorecard
9
2 July
13:00
Wolvercote 1 vs Wootton and Boars Hill 1
Win-Lose-Draw
Match drawn

Scorecard
10
9 July
13:00
Wolvercote 1 vs Steventon 1
Win-Lose-Draw
11
16 July
13:00
Wantage & Grove 1 vs Wolvercote 1
Win-Lose-Draw
12
23 July
13:00
Wolvercote 1 vs Horspath 4
Win-Lose-Draw
13
30 July
13:00
Wolvercote 1 vs Dorchester 1
Win-Lose-Draw
14
6 August
13:00
Challow and Childrey 2 vs Wolvercote 1
Win-Lose-Draw
15
13 August
13:00
Wolvercote 1 vs East Oxford 2
Win-Lose
16
20 August
13:00
Radley 1 vs Wolvercote 1
Win-Lose
17
27 August
12:30
Wolvercote 1 vs Clifton Hampden 1
Win-Lose
18
3 September
12:30
Wootton and Boars Hill 1 vs Wolvercote 1
Win-Lose