I started my time at Wolvercote in the 2nd XI in the summer of 2013 and enjoyed several successful seasons before being seconded to the 1's in 2017. Now I'm in my very late 40's, it seems like the right time relinquish a first XI spot and hope it's grabbed some younger talent, who actually might be able to run to the boundary and back more than once in an afternoon. What better way to achieve this than by skippering the 2's for a year to help fulfill our role of developing and nurturing the club's talent to supply the 1st XI with the players to allow them to vie for promotion, whilst striving for success ourselves.
I'm really happy to be taking over captaincy of the 2nd XI for the 2022 season, although a little daunted to be following in the footsteps of Captain Oliver, under who's stewardship the 2nd XI won promotion last year. This season is a little unusual as we are in the same Tier as the 1st XI, however, the club is hoping to resolve this with a promotion. As well as being a season of consolidation for the 2's, 2022 could be the season things feel a little more normal after all the disruption of the last two pandemic years and the novelty of joining the Cherwell league from the OCA last year. Of course, being a Wolvercote team, we'll fulfil these aims whilst enjoying our Saturday afternoons (sunny or otherwise) and creating a friendly environment for players, scorers and umpires that celebrates the diversity in our club and ensures we play with a smile, whether we're the windshield or the bug on any given Saturday. But that's not to say we won't heartily celebrate the days when it all comes together and stand united if we lose at all.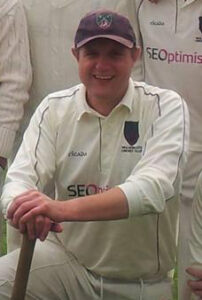 Wolvercote's Second XI was promoted from Division 6A of the Cherwell Cricket League in 2021. In 2022 they will play in Division 5B.

Week
Date
Time
Fixture
Format
Result/Scorecard
1
7 May
13:00
Wolvercote 2 vs Minster Lovell 2
Win-Lose
Wolvercote won by 7 wickets

Scorecard
2
14 May
13:00
Broughton and North Newington 1 vs Wolvercote 2
Win-Lose
Wolvercote won by 80 runs

Scorecard
3
21 May
13:00
Wolvercote 2 vs Cairns Fudge 1
Win-Lose
Wolvercote won by 3 wickets

Scorecard
4
28 May
13:00
Wolvercote 2 vs Shipton-under-Wychwood 2
Win-Lose
Shipton-under-Wychwood 2 won by 3 wickets

Scorecard
5
4 June
13:00
Risinghurst 1 vs Wolvercote 2
Win-Lose
Risinghurst won by 162 runs

Scorecard
6
11 June
13:00
Wolvercote 2 vs Combe 1
Win-Lose-Draw
Combe won by 8 wickets

Scorecard
7
18 June
13:00
Horley 2 vs Wolvercote 2
Win-Lose-Draw
Match abandoned


Scorecard
8
25 June
13:00
Wolvercote 2 vs Kidlington 1
Win-Lose-Draw
Wolvercote won by 72 runs

Scorecard
9
2 July
13:00
Sandford St Martin 2 vs Wolvercote 2
Win-Lose-Draw
Wolvercote won by 4 wickets

Scorecard
10
9 July
13:00
Minster Lovell 2 vs Wolvercote 2
Win-Lose-Draw
11
16 July
13:00
Wolvercote 2 vs Broughton and North Newington 1
Win-Lose-Draw
12
23 July
13:00
Cairns Fudge 1 vs Wolvercote 2
Win-Lose-Draw
13
30 July
13:00
Shipton-under-Wychwood 2 vs Wolvercote 2
Win-Lose-Draw
14
6 August
13:00
Wolvercote 2 vs Risinghurst 1
Win-Lose-Draw
15
13 August
13:00
Combe 1 vs Wolvercote 2
Win-Lose
16
20 August
13:00
Wolvercote 2 vs Horley 2
Win-Lose
17
27 August
12:30
Kidlington 1 vs Wolvercote 2
Win-Lose
18
3 September
12:30
Wolvercote 2 vs Sandford St Martin 2
Win-Lose