First XI
The ones travelled to the impressive new pavilion at Kingston Bagpuize, won the toss (again!), and elected to bowl first  to make the most of any moisture left in the wicket after the overnight rain. Barkat and Samir used the fast Kingston wicket to good effect, claiming one apiece (both bowled). A couple of chances went to ground (and inter alia the ball was bounced off the skipper's face by our sugared-up 'keeper) before the changes were rung with the (relatively) early introduction of spin into the attack following the belated arrival of our strike spinner, in the form of Kalpa sprinting onto the pitch after the second over, straight from a hastily parked car. Our perception that Kingson may be susceptible to quality spin was well-founded as Kalpa accounted for all the batsmen between 4-8 (inclusive) to finish with five for 31. There were nice catches behind square on the off for Samir and Ben and an absolute screamer from Mark at short(ish) midwicket as he held on to a fierce pull-shot from the Kingston number 7. Yatish removed the stubborn number 2, who batted extremely well for his 44, before Usman and Samir administered the last rites to wrap up the Kingston innings for just 106. Well below par on a true deck with an excellent outfield.
Mark and Ben opened the innings very steadily to get us to 55 without loss from the first 21 overs. When Mark fell on 27, Gus gave us some impetus with a HUGE six over midwicket quickly followed by a 4, before being undone by a surprise leg-spinner for 14. Richie had a couple of overs to look at the bowling and then went through the gears to take the 31st over for 12 runs and the 33rd over for 10 runs and bring us home in the 37th over to the realisation that we had been part of a 100 point weekend! Man of the Match: Kalpa Gamage
League seasons are all about momentum and the force is strong with us just at the right time as the top of the league is well within our reach with just 2 more wins needed.
Report by Chris Babbs
Second XI
On Saturday, Wolvercote's 2nd XI played in a must-win cricket match against Banbury 4s who were fresh off a victory against top of the league Bicester. Skipper Brian, unsurprisingly won the toss and put the 2s into the field, with himself and Tariq taking the new ball. Early wickets from our openers saw Banbury 3 wickets down before the 15th over. Will Sheehan came on as first change, replacing Brian and taking a wicket for himself soon after. Tariq finished his spell with 3 wickets and Majid took the ball from him. With a low run-rate and 5 wickets down, Banbury needed a strong partnership to revive their innings and just as their 4th and 7th batsmen started to look comfortable, Tom Ackerman stunned with a fantastic run-out that seemed to break Banbury's spirit. Following this, Amit came on to bowl and quickly took the wicket of what can be deemed as Banbury's last threatening batsmen. Credit to Darren behind the stumps taking a brilliant grab off Amit's bowling. Majid returned at the opposite end and he and Amit took the final 3 wickets leaving Banbury 98 all-out.
Up first batting was Darren and Chris who had a very comfortable first over including a no-ball and a free hit for Chris's first shot. Our opening partnership was limited to 22 as Chris was caught out after a mistimed shot with Dan D'hotman walking out as number 3. Dan and Darren were as comfortable as could be and by the time Darren's wicket fell, they had put on a partnership of 50, leaving Deepak and Dan to see out the final 27 runs needed. Deepak played possibly one of the slowest innings the Wolves had ever seen him play with an irregular score-rate of 42.86. However this didn't stop him from finishing the game in style after being both caught and bowled out on two separate free hits, Deepak smashed a full toss over the rope for 6 to secure the win for Wolvercote.
MOM shared between Tariq (bowling) and Darren (batting and keeping)
We eagerly await Combe next week as the 2s are determined for promotion.
Report by Tariq Raheem
Third XI
Your correspondent this week enjoyed a lovely August summer holiday visiting the Wolvercote 3rd XI at the picturesque but steeply sloped West Ilsley!
Challow & Childrey won the toss and elected to field so this tourist got to open with Gabe (27). The scoreboard started to tick rapidly thanks to strong drives, cuts, straight hits, and our good friend extras. The partnership was 57 before we both fell, bringing Shyju (11) and Nigel (34) to the crease. Nigel played the anchor role as others looked to accelerate around him. Shyju was stumped, Will 'The Wall' Symington got a grubber down the slope, and Jamie was caught in the covers. At 5 down for 105 the game felt in the balance, but as I have learnt from wiser heads before me, when The Irf (32) is asked, The Irf delivers, hitting fours up the hill and down the hill, running the fielders ragged. Late impetus was added by the quick running of Neil (11) and Will Turner (18) – Neil being run out on the last ball to leave the Wolves 205 all out. It felt a little over par, but gettable…
That notion was soon dispelled by a devastating opening spell of bowling from Neil (5-2-17-2) and Will Turner (6-1-18-4) – as a visitor from the 4s, I can confirm to all Wolves that Neil is the sultan of swing, and that Will is large, nasty, and compares favourably to his father! Both openers decided that other fielders weren't needed, hitting the stumps with regularity, and taking some excellent caught and bowled chances – Neil getting the opener with a full stretch dive forwards, and Will getting the counter punching number 4 with a sharp chance into his midriff. The next ball Will struck again with an unplayable leg stump yorker to leave Challow out of the game on 35 for 6. All that was left was for Jeejo (6-1-13-1) and Irfan (5.4-0-16-3) to mop up the last of Challow's resistance, all clean bowled, and a comprehensive victory was sealed. The victory sees the Wolves jump up to second in the table.
All in all I can highly recommend the Wolvercote 3s for your summer holiday – 5 stars and great hospitality all round!
Report by Alex Beaumont
Fourth XI
Ultimately, they say a picture is worth a thousand words and this report could just be replaced with this: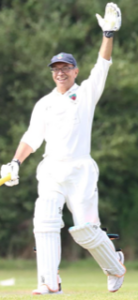 But I know some of you wish to have a story to read on a Sunday morning so…
…A final outing at Kennington for the 4s this season saw us face Shipton-Under-Wychwood who were looking to register their first win of the season. Keeping up with tradition the skipper lost the toss and was put into bat. Marc appeared to still be on holiday falling in the first over and not the start that we wanted; however striding out at number 3 came Dr Hanif Rahim in his final game of the season before he sets off on his Mediterranean cruise next week, What happened next will be a story that travels the world or at least the cruise ship and stop off points! There will be lots of passengers/crew/strangers stopped in the street desperately using Google translate for words and phrases such as; cover drive, majestic, pull shot over square leg, slow outfield…
Ibi maintained his outstanding form with the bat getting the Wolves innings going with some lovely boundaries before getting caught at deep square leg (27). Danny Robinson came out next to join Hanif who, by this time, had got into double figures for the first time this season and was starting to play shots that had been seen in the nets but not so much out on the square. Some lovely looking shots from Danny saw him catch up with the Dr and, in what may be a first for the 4s, both reached 50 in the same over and the injured Simon, who was scoring (thank you), was kept busy as we reached 100 by drinks.
Danny then fell (56) but the Dr kept going on. With the outfield being a tad slow there was a lot of running between the wickets but, with drinks being run on for him by the youngest Rahim and the rest of the 4s batting supporting him, the 60s, 70s and 80s came and went and the Dr kept going. Alas, just as we were daring to dream, he was finally snared on 98. It was a great effort and put us, along with a quick cameo from Stuart (13) – clearly inspired by his son, Danny – in a commanding position of defending 231 at the break.
Shipton came out needing to start quickly and they didn't. Yusuf bowled their opener without him troubling Simon and by drinks they were 3 down and behind the run rate with the pick of the wickets being Sam Payne who claimed an outstanding c&b diving full length to dismiss the other opener. Shipton's innings never got going thanks to some tight bowling by the two aforementioned bowlers supported by Stuart, Isaac (each taking a wicket), Norm and Danny who both deserved a wicket. With support arriving from other Wolves fresh from their victories the 40 overs finally ended with a 93 run victory and we were led off by Hanif.
With this being the last game for a few of the 4s, we presented our skipper with a gift to say thank you and bid him well on his onward journey to Canada-ey. His final game will be next week and if you want to see him open the batting, bowling, keeping, umpiring, scoring and losing a toss, join us next week at Minster Lovell.
Report by Marc Lewis